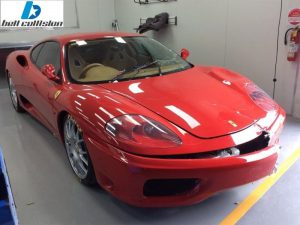 When it comes to your vehicle, you want to make sure that it is in the professional hands for all repairs and servicing. This is especially true when you need smash repairs for your vehicle. Here at Bell Collision, we have been providing high quality accident repairs and panel beating services to car owners across Thornbury and the surrounding suburbs. From small dent removals to complete vehicle body repairs, we provide a full-suite of services, ensuring that your car is restored to the manufacturer's specifications.
Collision Repair Specialists Thornbury:
Whether your vehicle needs general panel beating service or collision repair, we will get your job done to the highest standard with a quick turnaround time. With a proven track record in delivering excellent workmanship, our panel beaters make it their goal to get you back on the road quickly. Our collision specialists are trained to the industry standard and are familiar with the latest automotive technologies which enable us to return your vehicle to the factory specifications.
Spray Painting and Refinishing Thornbury:
If your vehicle has a few scraps or scrapes, you can count on the team at Bell Collision. We use advanced paint matching technology and spray painting techniques to achieve perfect finish as per your vehicle's make, model and colour.
What Brands Do We Repair?
Here at Bell Collision, we have the expertise, experience and equipment to provide car smash repairs for imported and domestic vehicles. We specialise in
Audi smash repairs
BMW smash repairs
Mercedes smash repairs
Volkswagen smash repairs
From structural deterioration to accident damages, we handle everything and get your car looking as good as new.
So, if you have been in an accident and need smash repair, feel free to call us at 03 9478 8370. We will directly deal with your insurance company and take you through every step of the claiming process.