Auto accidents are certainly an unfortunate event of life. While most of the car collisions are relatively minor, some accidents can cause serious damage to your vehicle. After such accidents, smash repair is not only crucial, but is utterly necessary. If you are based in Preston or Thomastown, come to Bell Collision to get your car repaired in a professional manner. As a member of Car Craft, we provide high-quality service and get your car back on the road in the shortest time possible. In addition, we will also manage the entire process for you, including insurance claim assistance upon your request.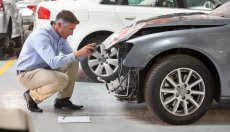 Latest Tools And Equipment:
From minor dings to major damages, our skilled panel beaters can fix anything and restore your vehicle to its pre-accident condition. We are trained to the highest industry standard and have qualifications to fix any auto body repair in no time. Being a Car Craft repair centre, we have equipped our workshop with the latest equipment and tools that allow us to provide prompt and courteous service every time while ensuring a high level of integrity.
OEM Parts Used:
The panel beaters and technicians of our Car Craft accident repair centre are committed to using genuine OEM parts, meaning that the statutory warranty of your vehicle can be protected. Moreover, we can work on vehicles of all makes and models, and get them repaired in compliance with the manufacturer's specifications.
Insurance Claim Assistance:
If you are involved in an accident that is not your fault, we can help with the third party insurance claims. We work collaboratively with major insurance companies and streamline the entire smash repair process for you.
Excess Plus:
Excess Plus is exclusive to the member of Car Craft, through which the customers of smash repair shop will be paid up to $500 excluding the insurance claim. This product can benefit those drivers who met with another accident within 12 months of receiving this policy.
Why Should You Get Your Damaged Vehicle Repaired By A Car Craft Member?
Trained panel beaters and technicians at your service.
Third party insurance claim assistance.
OEM Parts used.
Repair carried out to the factory specifications.
Trustworthy, reliable & courteous service every time.
Benefit of Excess Plus can be enjoyed.
For more information, we invite you to call 03 9478 8370.