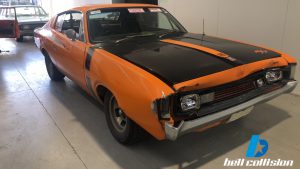 Being at the forefront of the car smash repairs industry, Bell Collision has been providing a full range of accident repair solution to drivers across Fawkner and the surrounding suburbs. Equipped with state-of-the-art tools and industry-leading expertise, we can provide vehicle body repairs for all makes and models of domestic and foreign vehicles. From classic sports cars and passenger vehicles to hot hatchbacks, luxury 4×4 and light commercial vehicles, we have all of your smash repairs needs covered.
Experience, Technology And Passion For Perfection:
The team at Bell Collision is comprised of passionate panel beaters, spray painting professionals, auto body engineers and mechanics who pay close attention even to the minutest details to ensure that your vehicle comes out looking pristine. Whether your vehicle needs frame straightening, window replacement or under-the-hood repair, we will get the job done right without costing you the earth.
Spray Painting:
Our spray painting team here at Bell Collision can sand and repaint each of your vehicle panels, giving it a seamless finish. From covering up dents, scratches, scuffs and blemishes to clear coating, we handle everything to give your car a brand new look.
Insurance Claim Assistance:
Leveraging years of experience in expediting the insurance claim process, we can take the hassle out of dealing with your insurance provider. We have established a strong relationship with all major insurers in Fawkner, and as a result, we can get your vehicle returned to you quickly.
At Bell Collision, We Can Help You With
Truck smash repairs
Audi Smash Repairs
BMW smash repairs
Mercedes smash repairs
Volkswagen smash repairs
Fleet service & maintenance
At Bell Collision, we are so confident about the quality of our accident repairs and workmanship. Our experience, expertise and equipment can help restoring your vehicle back to its original glory. What are you waiting for? Call 03 9478 8370 and schedule an appointment with us today.