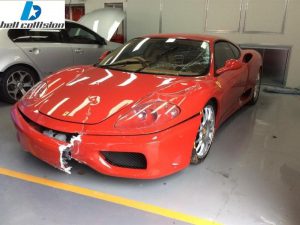 Getting in an accident is certainly a traumatic experience. Apart from emotional strain, you must invest a huge sum of money to get your car back on the road. Here at Bell Collision, we have been offering the fastest, highest quality smash repairs to vehicle owners across Ivanhoe and nearby suburbs. We handle everything from minor dent and dings to major auto body damage. Our mechanics use the state of the art technology to restore your vehicle's look and performance to its factory condition.
Certified Mechanics Ivanhoe:
We strongly believe that vehicle body repairs require skill, experience and a touch of creativity. That's why we employ only certified mechanics to handle the job. We will carefully handle the repair works and bring back your car's functionality, efficiency and fit & finish to its manufacturer specifications.
Panel Beating Ivanhoe:
When you bring in your vehicle for accident repair, our panel beaters assess the extent of structural damage to your vehicle and perform necessary works to restore its shape. With continuous training and expert knowledge, we will do the job right the first time around.
Fast Turnaround Time:
We realise that you rely on your vehicle for all your transportation needs – commuting to work, kid's school, shopping and more. That's why we adopt a streamlined repair process for scuffs, dings, dents and scratches that facilitates restoring your vehicle's appearance and performance at a price that you can afford.
Brands We Serve:
We work on all makes and models, including foreign, domestic, luxury, vans, light commercial vehicles and pickup trucks.  Our specialisation includes
Audi Smash Repairs
Volkswagen smash repairs
Mercedes smash repairs
BMW smash repairs
So, if you've met with an accident and want an expert to repair your vehicle, feel free to call the mechanics at Bell Collision. With industry leading experience and advanced tools, we will handle your car smash repair needs with utmost professionalism. For appointments, contact us now at 03 9478 8370.