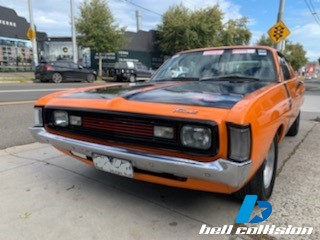 If your vehicle is banged up in an accident and you are looking for car smash repairs in Kingsbury, you can count on the panel beaters at Bell Collision. From small scratches and dents to major repairs, we provide you with high quality repairs without putting a strain on your wallet. Our trained auto body specialists will thoroughly repair your vehicle and make it look better than ever. We also welcome all insurance jobs and can assist you with reporting the vehicle damages to your insurance provider.
Our Repair Process:
Estimate Preparation:
Our smash repairs Kingsbury begin with a preparation of free on-site estimate. We will examine the structural and cosmetic damage of your vehicle and prepare a fair estimate based on the cost of labour, replacement parts and materials.
Repairs:
The work being done following an accident often involves dozens of parts from the exterior and interior of your vehicle to under its hood. The frames must be straightened, door panels should be realigned, wheels must be checked for alignment, and finally all the mechanical parts should be assessed for proper performance. Our auto body specialists will pay close attention to all these aspects and perform accident repairs to the industry standard.
Painting Job:
Once we are done with vehicle body repairs, we will carry out paint job to give your car a brand new look. Our auto body shop uses state of the art paint matching technology and top of the line paint products that provide the perfect blend of ease of use, colour match, long lasting and world class finish.
At Bell Collision, We Can Help You With
Truck smash repairs
Audi Smash Repairs
Mercedes smash repairs
Volkswagen smash repairs
Fleet service & maintenance
If you are ready to have the auto body specialists surpass your expectation, call 03 9478 8370 or stop by our shop in Plenty Road, Preston.