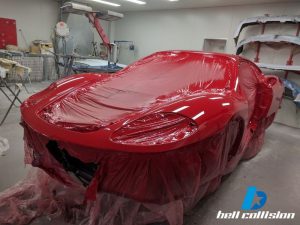 Whether your vehicle has a minor dent or a major damage from a collision, you can rely on the experts at Bell Collision for smash repairs. Equipped with industry-leading experience and advanced diagnostic tools, we provide a wide range of services including panel beating, spray painting, paintless dent repair and full vehicle restoration services to our customers across Mill Park and nearby suburbs. From the moment you contact us to till you drive away your car, we will provide complete assistance for a hassle-free experience
Our professionals are consistently trained on the latest vehicle repair technologies that enable them to work on all makes and models. Whether you have got a compact sedan or a large commercial truck, we will carry out necessary body works and restore your vehicle to its factory condition.
Preliminary Check-Up:
We will begin with performing a complete inspection of your vehicle to determine the damages occurred that it has sustained. Our vehicle body repair specialists look for hidden damages and then prepare a comprehensive estimate on repairs needed to restore your vehicle. Estimation will be done after communicating with you and your insurance company.
Repair Process:
After completing the inspection, we will repair or replace the damaged parts on your vehicle. Apart from external parts, we will also pay attention to inner structural components to ensure that they are in top-notch shape. Bumpers, fender, doors, hood or lift gate will be repaired or replaced before the vehicle is subjected to painting works.
Paint Process:
We will sand away the existing paint and apply a fresh coat of paint, followed by a layer of clear coat, ensuring that your paint remains vibrant for a long time. In order to achieve perfect finish we deploy spray painting techniques that produce long-lasting results.
From towing your vehicle to our repair centre to returning your vehicle, we will handle every work with the utmost care. If you are looking for accident repairs in Mill Park, don't ignore to call us at 03 9478 8370.