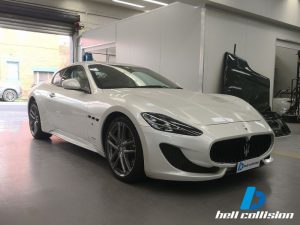 At Bell Collision, we pride ourselves in providing the best quality repairs and maintenance services across Dallas. Be it any type of repair, our mechanics instill best diagnostic methods to resolve the issue in no time. We ensure that our mechanics are updated with latest diagnostic methods to handle any new makes and models.
Car Bumper Straightening Dallas
You will notice not unless it falls off or is severely damaged. Car bumpers are the first line of defence, when your vehicle gets into an accident. At Bell Collision, we understand the importance of car bumpers and provide efficient bumper straightening or replacement services across Dallas.
Insurance Claiming Dallas
The most annoying thing could be running to claim for insurance when your vehicle gets into an accident. At Bell Collision, we make it simple by directly working with your insurance provider and help you step by step throughout the repair process. So you can rest assured about the claiming process and receive the best support possible.
Paint Protection Dallas
Provided with a painting spray booth with all advanced spray tools; we offer exceptional paint protection to your vehicle by covering all the scratches that ruin the vehicle's outlook.
What Brands Do We Repair?
At Bell Collision, we have the expertise and experience to handle any imported and domestic vehicles. We work on popular brand vehicles including,
Audi Smash Repairs
Mercedes Smash Repairs
Volkswagen Smash Repairs
BMW Smash Repairs
From detailing to fixing any structural damage or accident repairs Thomastown, we go extra mile to make your vehicle look new.
Need us to handle your car collision repairs? Call us on 03 9462 2234 to help you right away.